About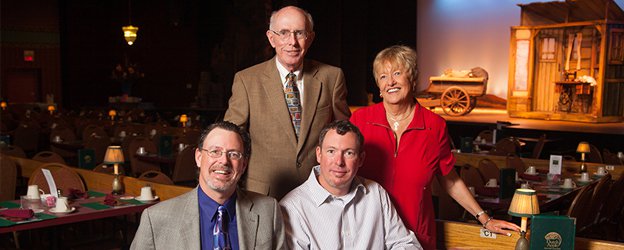 The Prather family, Tom, Deborah, David and Will, are a true theatrical family that has produced quality theatre for more than 45 years. The Prathers bring years of expertise to each production and are known for creating a comfortable, but luxurious ambiance in each of their theatres.
The Dutch Apple Dinner Theatre – Lancaster, PA
The Dutch Apple is now in its 30th year, consistently provides top quality productions, award-winning food and exceptional service to over 150,000 guests annually. The theatre seats 340 and is located in the heart of the Amish Country in southeastern Pennsylvania. It features a simple yet sophisticated charm you won't find in many theatres.
Broadway Palm Dinner Theatre – Fort Myers, FL
Broadway Palm is now celebrating its 24th Season. The theatre entertains over 170,000 guests annually. The facility includes a 450-seat dinner theatre, a 100-seat "black-box" theatre called The Off Broadway Palm Theatre, a 120 seat dining room called Café Cabaret and a 30-seat space just off the main lobby called, The Art Café. The theatre can be found on Florida's Gulf coast between Tampa and Miami.
Prather Touring Company
Now in its ninth season, PEG's national tour division premiered in Boston, Massachusetts with Beehive, the 60's Musical. PEG has also produced Footloose, the 10th Anniversary Tour; The Wedding Singer; All Shook Up; Blast; Fiddler on the Roof; Seven Brides for Seven Brothers, Memphis the Musical and Million Dollar Quartet. PEG is gearing up to hit the road with Pippin; visit pippinontour.com to find out when it's coming to a city near you!
Prather Entertainment Group operates under one basic philosophy: "give our guests great entertainment at a great value". By following this simple rule, Dutch Apple and Broadway Palm have earned a reputation as their area's most entertaining destinations!